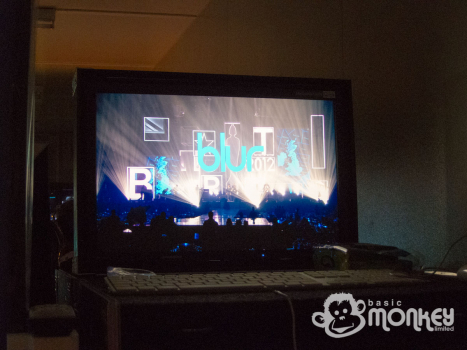 Chris Saunders, of Ogle Hog Limited, called upon Basic Monkey to provide Catalyst playback facilities for this years Brit awards at the O2. Ogle Hog supply and manage creative LED and relay screens for the event.
Basic Monkey's dual touring Catalyst system was used to play back content for the 7x different LED surfaces. 3x F11 closedown screens on automated winches to cover the performance area during links, 2x F11 performance screens, 1x LED GO dancefloor with a hole to allow the lectern to rise up and Versatubes for Florence and the Machine's performance.
The two Catalyst machines were run as main/backup, with one output running closedown screens and the other running performance. These were triggered using our Jands Vista S3 console, running the latest Byron software.
Nomination packages were cut to the centre closedown screen by Jonathan Bond using an Encore LC system, he also played back the two timecode locked performance videos.
Ruary Macphie cut cameras for the 4x relay projection screens in the auditorium. He took feeds from the CTV truck and also two independent cameras operated by Dan Ormerod and Barry Minter, engineered by Dean Ruffy and Richard Burford.
Content for the LED screens was produced by Hello Charlie, who had a team onsite adjusting the content to work best on camera. Each video file was graded separately either at production stage, or using Catalyst FX editor presets to work with the LED screen gamma.
XL Video provided the F11 LED screens and also the projected relay screens.
Here's looking forward to next year!