We have invested significantly in our stock of video & control equipment, centering around Catalyst media server software.
A variety of systems are available for every scenario, all completely scalable.
These start with lightweight, portable and flight-suitable laptop systems and increase in capacity and capability to our flight-cased touring systems.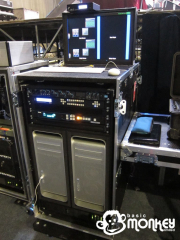 Our top system is the dual touring system pictured, this includes:
Built in monitor with DVI multiviewer
Folsom ImagePro HD
Multi-channel audio output
HD-SDI capture cards
On-line power conditioning UPS
DVI DAs
The systems can all be configured to your exact requirements and we can provide the right operator for your application.