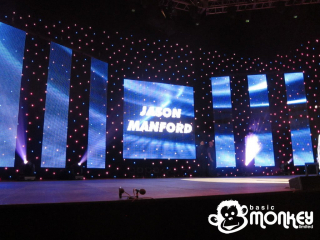 Tonight was the recording of Jason Manford's new DVD, due out in November, at the MEN Arena in Manchester.
XL Video supplied Pixled F-30 for Jason's backdrop, driven by Catalyst. Using Catalyst's frame blending and colour adjustment capabilities, a slow and subtle moving look was generated for the show with a more lively look for his walk-on.
As a break from James' usual travels, this show is on home turf, not for long though!