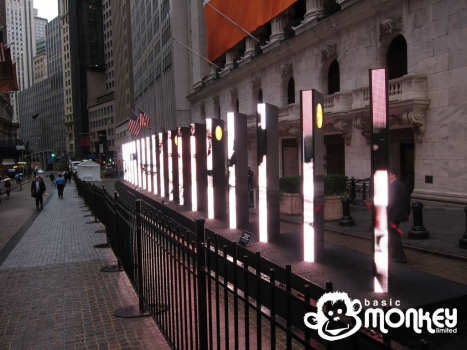 This morning, after a year of preparation and a successful launch in London, the Thomson Reuters Digital Forest campaign goes live in New York outside the famous stock exchange building.
Backed by a huge Thomson Reuters banner, replacing the usual stars and stripes, the 'trees' (which are in a different formation to London) continue the brand's colours and attract a lot of attention from the passing public and more importantly, the traders themselves. Designed as a teaser campaign, the trees convey text messages, show clips from the Eikon product screen advertising campaign and flash abstract graphics to grab attention.
James had been in New York for a week in preparation for this, and part two of the campaign in the coming weeks at Grand Central station.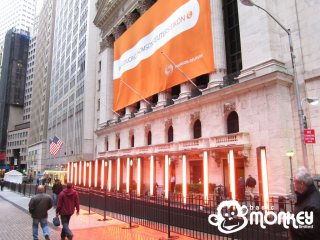 When looking at a slight angle along the line of the trees, the broken television adverts appear as a solid image. This causes a lot of movement in the crowd to view the installation at various angles. As was hoped, camera phones were out in their numbers, hopefully spreading the word and making the exercise worth the effort.
James has been working with XL Video in the USA, who are supplying the Barco O-Lite modules to Jack Morton Worldwide, for support based on experiences in London and to program the Catalyst machine which would play the content back. Catalyst was chosen for it's flexibility and reliability when being left for long periods of time, and its ability to achieve pixel accuracy, a must at this low resolution.