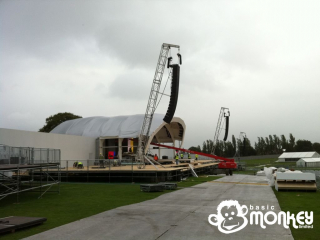 For the past two days, James has been down at Cofton Park in Longbridge to rig LED screens for the Papal visit this weekend.
With some serious stage work, a huge crowd area and lots of LED screen from XL Video, this looks to be a major event. The crowd space had 20x PA towers and 6x screens to cater for it!
The screens consist of 3x Mitsubishi DV8 and 3x Lighthouse R7. 6 kilometres of coax and Triax cable are in use for the 10 cameras (not including BBC ones!) and screens.
A crew of 20+ from XL Video and XL Events were on site for the past two days, including LED screen techs, cable techs, camera techs and operators, vision mixers and engineers.
As you can probably see from the photos, it got a bit wet at times and the only shelter available was under the choir seating racks! Let's hope it's sunny for the 50,000 guests and 1,000+ crew/staff on Sunday.