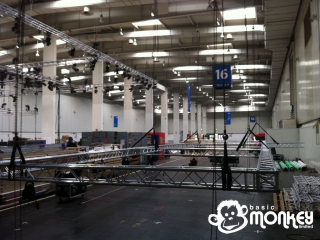 Today, James is in Hanover for CSP AV to rig and light an exhibition stand as part of the big commercial vehicle show at the Hanover Messe.
Due to the limited availability of rigging points, truss bridles were used to get the grid as wide as possible over the stand area. Since the rig will be in place for 4 weeks, budgets are tight and as such manual chain blocks had to be used and this makes for a tricky lift!
Basic Monkey provided lighting plots, weight calculations and James as crew for the install. Keven Heyes from Theatr Clwyd was also there and providing all truss and rigging.