The last of the festivals this summer for Basic Monkey and it turned out to be a tough one for all involved.
XL Video had a lot of LED at Creamfields. Even by Steve G's (Project Manager) own admission, he'd never seen or heard of so many LED techs on site!
James was principally based with Chris Isaacson in the Chibuku/Swedish House Mafia arena building, altering and repairing the Stealth screen there, although everyone pitched in site wide.
For the first night, the Stealth was rigged in a semicircle for Plastikman's performance, behind which he played making use of the transparent properties of the screen. After the show we had to wait until the other DJs finished at 4am, then for the ground support with all the lighting on to come down and go back up again. Come 8am we were finished, time to move on to main stage.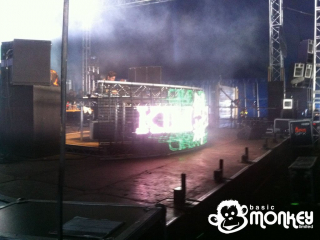 The overnight efforts were to re-rig the Stealth screen at the back of the stage for the Swedish House Mafia's set.
After an hour to rest in the tour bus or in hotel (for the lucky ones) staring at the walls, it was back to work for all to switch on and look after the screens for day 2.
On return to the Chibuku tent, the incoming production required a screen to cover the DJ decks table. So with heavy eyes, Duncan from BPM SFX rigged a makeshift truss rig and James, Chris and Ian built the remaining Stealth panels across the front using some cable ties, looked the part though!
The load-out went quicker than expected which was a saving grace, seeing the last XL presence leave site at 6:30am.