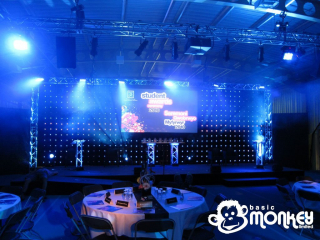 This week saw James at Deeside College in Flintshire for their annual student awards show, produced as always by CSP Audio Visual.
All equipment was provided by CSP, apart from our own Catalyst media server and Jands Vista lighting console. The lighting rig was designed by Steve from CSP and operated by James.
The set backdrop was 11m x 4m of ColorWeb 250 with a black backdrop. Over this was hung a widescreen projection surface. Using the Catalyst system, the colour scheme of the lighting, ColorWeb and projection could be easily and effectively matched.