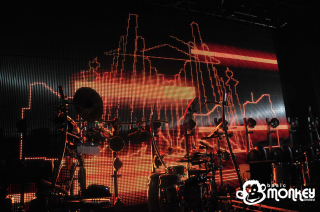 Welcome to your first glimpse of the world's largest 'Etch-a-sketch'!
Tonight we were blessed with the large stage of the Wolverhampton Civic so all of the back screen went up and all of the riser video strips went out. A perfect chance to get a few photos for you.
From the beginning it was planned that 'Pilot' would be used as the media server for the tour, based on it's ability to do some funky pixel shifting. Due to time constraints and other influences, Intro were commissioned to produce the content for the show rather than use Pilot's built in rendering system. After a few teething problems at Brixton, I decided to try using Catalyst to run the show off my laptop. After a quick programming session at Doncaster, I had the show ready to go, all frame synced to the backing track and no issues at all. A real testament to the flexibility of the Catalyst system.
Check out the photos below to see the LC screen at the back and the MiTRIX panels on the risers.
James