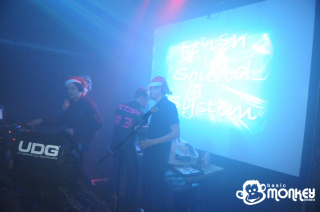 Tonight was a return to club visuals for Basic Monkey at a new venue, Manchester's highly successful Warehouse Project.
Long term friends of James', The Fetish Sound System, were asked to provide music in the back room while Calvin Harris and Pete Tong were playing in the main room. Along with their DJing, they wanted to make the most of the opportunity with fancy dress, usual fetish antics and a visuals show from Basic Monkey.
We provided our Catalyst media server controlled by Jands Vista S3 lighting console feeding into a central Sanyo projector onto a screen and two installed side projectors onto the brick wall.
Using a wide selection of stock content, specially designed animated texts and also live inputs from a night vision camera and special hat mounted wireless camera worn by Tom from the Fetish and various others; the visuals complemented the antics on stage.