Samsung today launched two new products, the Galaxy S2 and the Galaxy Tab 10.1 at the Olympic park in Barcelona.
The event marks the start of the Mobile World Congress in the city and as such the media guests expect to be impressed. Jack Morton Worldwide certainly delivered on these expectations again.
Following on from last year's success with 360 degree projection, it was decided to use projection again but on to varied surfaces in both texture and depth.
The main screen was 17.5m wide and 6.25m high, rear projected using 4x Barco HD20s in a 2x way edge blend. Flanking this were two front projected 'media façades' which had blocks at differing depths. 2x Barco R22 machines on their sides were mounted on a tower at front of house to project onto these.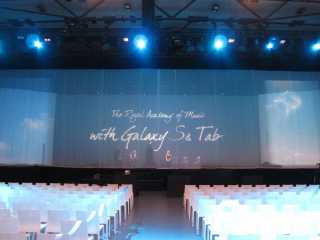 For the opening sequence a voile curtain was brought across the entire stage, backed by a black Kabuki drop. This was also projected from the front, using Barco HD20s.
As the guests walked in, the Samsung Unpacked logo looped on the voile, followed by two teaser videos. After a countdown intro the Kabuki drops and the cloudy sky parts slowly as the voile curtain opens with carefully matched speed. Tied in with this, the main screen reveals an image with the product name.
The main show was divided into 4x stories, each with an opening video and product presentation graphics matched to the presenter's words. These were cued from script and designed to flow seamlessly.
Driving all the projectors were 3x XL Video Catalyst machines and Basic Monkey's 'Gorilla' Catalyst system output the 8 channels of audio used for the orchestral opening sequence along with the stereo audio for the rest of the show.
All the media servers were fed into a DVI matrix and were all inter-changeable in the event of one failing.
The show was triggered by our Jands Vista S3 console, making use of the carefully adjustable timing and transitions.
James programmed the show using content provided by Sangwha and Remedia, working closely with them to ensure a faithful representation of their concepts.
A show for invited guests is tomorrow following the same format as today but with a few alterations.
We're all wondering what next year's show will entail…