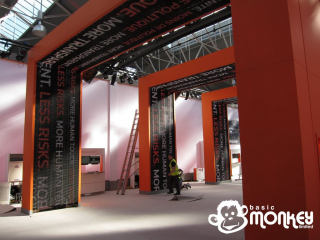 Yesterday, after a long flight back from New York with no sleep, I headed straight to the hotel to catch up on some much needed rest.
After waking I headed over to the site of the London "Go Live" launch of Eikon, where Tim Riley and the team from XL Video were busy building the complex MiTrix arches.
Today was a day of rehearsals for Hugh Davies-Webb who was running the show using Catalyst and a Hog 3 lighting console. I was on site simply to shadow him and take lessons learned to the New York and Tokyo shows.
The show went seamlessly although issues with video playback from Keynote became apparent so on my events abroad, I'll play these direct from Catalyst.
James