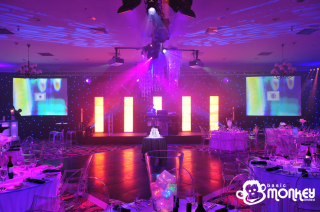 Lightech Sound and Light, one of Basic Monkey's longest standing clients, have asked us to provide projectors, screens and control equipment for Jamie Tyrer's 21st Birthday Party at Craxton Wood Hotel.
The remit was simply that above, but we also provided our Catalyst system and Vista console to make best use of the lighting installed by James along with Mike, Lee and Jack from Lightech.
Our Catalyst server was used to drive the projection screens and also Lightech's Traxon Mood Tiles. They are usually driven by eCue, but James and Mike decided to use the infinitely more flexible Catalyst system on this occasion with fantastic results.
The evening had a great atmosphere, with entertainment provided by DJ Kerry Spicer.