Basic Monkey's first venture outside of Europe has just come to an end, a very exciting 11 days in Seoul, Korea leading to a very successful event.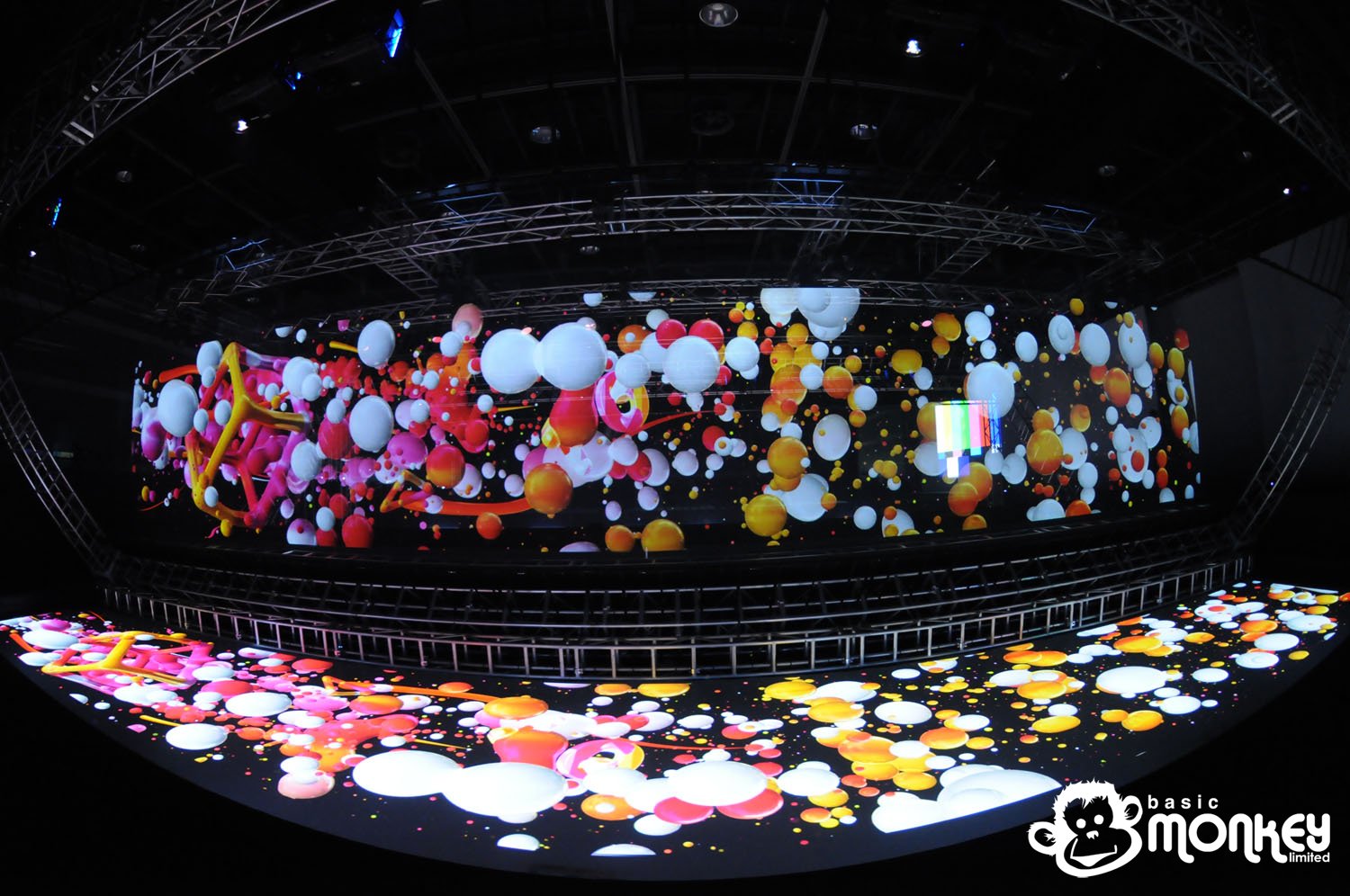 Following on from the Milan Fashion Week Launch, Jack Morton Worldwide were asked to travel to Seoul with the same team that created the holographic experience in Milan. Lighting, sound, set, staging and side screen video would be provided locally by Yonhanaro. XL Video provided the 16 Barco FLM HD 18 projectors, 2x Catalyst systems and processing, also bringing in James from Basic Monkey to program and run the show. Basic Monkey provided a Jands Vista S3 lighting console, a high-spec Catalyst media server with suite of video software and network gear for content distribution.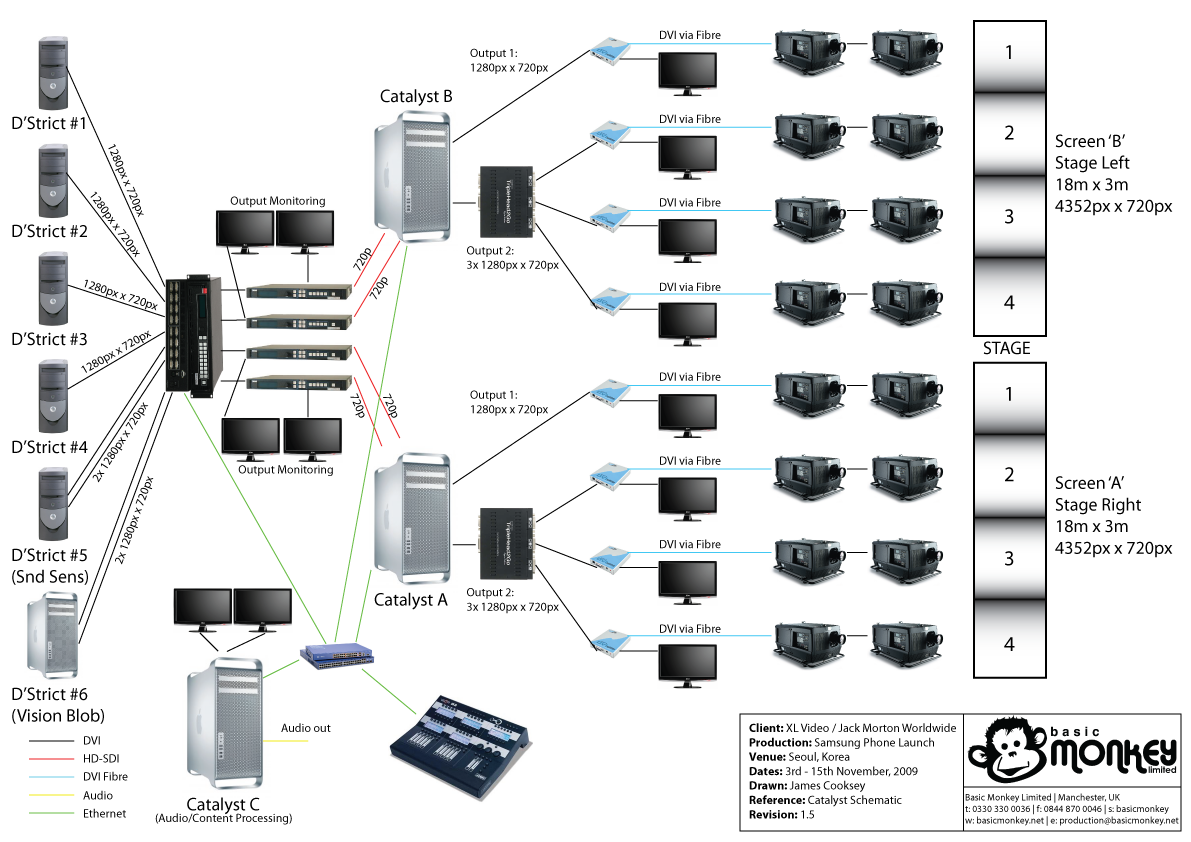 Learning from the challenges encountered at Milan, James was involved from an early stage to design the pixel specification and consult with the rest of the team regarding Catalyst capabilities and methods. JMW also decided to help on three fronts to reduce workload and the chance of issues from Milan reoccurring: 1) Bring in a second Catalyst operator, Nev Bull 2) Supply a software producer (and body guard), Sharon Stansfield and 3) Ship the team out well in advance of the event and program offsite at the offices of D'strict (the graphics and content team).
The team worked really well. James would, as before, program and operate the show, with Nev acting as Catalyst technician, handling hardware issues and setting up the complex video input system. Sharon acted as intermediary between the team at D'strict and James and Nev, this meant that any content alterations wouldn't impact too much on programming and ensured a common schedule to work to. James was also responsible for processing the video files provided by D'strict and provided 'pixel crunching' and technical support to the local video team in charge of the side screen content.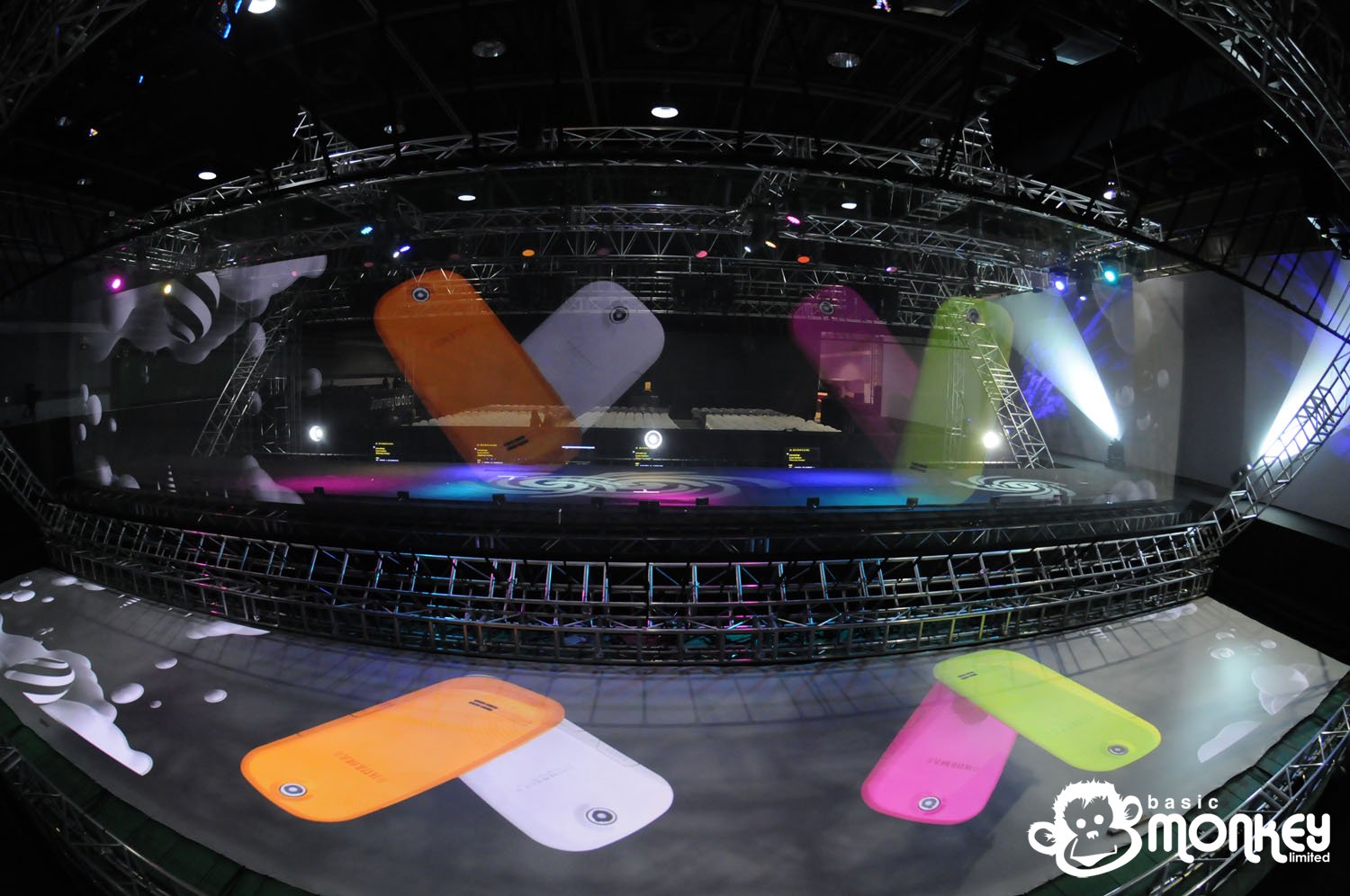 For those that don't know, the holograms are created by projecting images onto the floor which then reflected using a very high-tech plastic stretched at 45 degrees along each side of the catwalk. This is provided my Musion, based in the UK and rigged by Steve from Nippy Industries. The technology is amazing and is best appreciated in person, please check out the YouTube videos.
All this technology is nothing without the amazing videos created by D'strict, along with their incredible 'Gesture' system that tracks the presenter's hand movements and also 'Vision Blob' which tracks dancers' movements along the catwalk and maps graphics which appear above or infront of them.
The team on the ground was as follows:
Rob Oliver – Senior Production Manager (JMW)
Jeavon Smith – Producer (JMW)
Tim Riley – Video HOD (XL)
Warren Galt – Projectionist (XL)
Sharon Stansfield – Software Producer
Nev Bull – Catalyst Technician (PP)
James Cooksey – Catalyst Operator (BM)