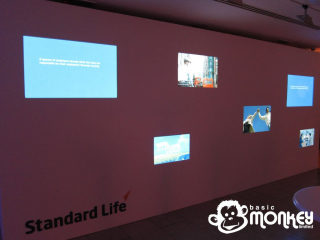 Standard Life are in the process of launching their new employee financial planning service and today was the media preview event.
The event was held in London's Hospital Club and was produced by Jack Morton Worldwide.
XL Video were asked to supply LCD and plasma displays, each showing different content, to be integrated into a white fabric covered set panel. This wall matched the other walls in the gallery and looked like a permanent feature.
Catalyst was chosen as the source for these displays for its ability to send multiple files to multiple destinations, while easily scaling the content to match the wall apertures.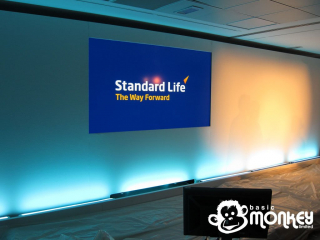 Behind the stage, a 103″ Panasonic plasma display was integrated into another white covered set panel.
'Buzz' words were projected onto the other walls from pillars made to look part of the building structure.
James programmed the 2x Catalyst systems to accept wireless commands from his iPhone, meaning that the display wall could be pushed back against the wall. Adjustments were made to the scaling for each window using wireless remote desktop.