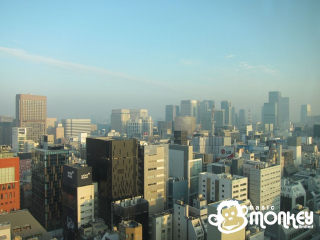 After a hugely successful and hectic week in Paris, I've arrived in Tokyo for my last involvement with the Thomson Reuters Eikon launch campaign this year.
Sunday was a long day, starting at the Halle Freyssinet to pack up video city, followed by two trains and a bus to get to Charles de Gaulle airport. Short flight to London Heathrow (I was asleep before we left the stand) and then across to T3 to enjoy the BA lounge. The flight was with JAL with fantastic service, although I couldn't seem to get to sleep for the life of me on the 12 hour flight. After finishing off a TV series and a few bottles of white wine and a brandy, I had a 30 minute doze just as we landed.
The hotel is very smart, with cleverly designed rooms that make best use of their small size. Oh and the standard computerised toilet! The photo above is the view from my full height window.
I'm off to site in an hour or so to see the LED arches go up and start looking at content.
James