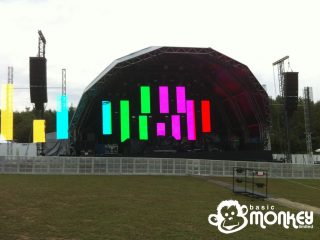 James has just spent the night re-building a F-30 LED screen at the Goodwood Festival of Vintage following a power issue.
The phone rang yesterday afternoon in the hunt for an LED/power technician to get to Goodwood to rebuild the screen while they day crew got some rest. James arrived on site to find the cause of the problem, one of XL's touring distros, designed for use in the USA and in Europe had it's voltage selector in the wrong position when it should be locked! This meant that 400 volts went across just over half the screen (luckily the rest wasn't plugged in). A series of pops and bangs were heard and promptly a new screen was despatched from Belgium.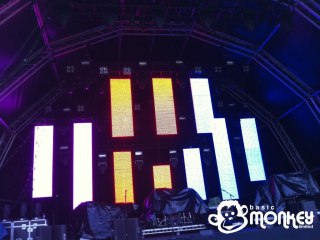 Come 7am, James and Gareth from XL had replaced 36 panels, some hung on motored trusses, the rest on vertical truss towers which had to be accessed using cherry picker (a very frustrating task).
A couple of hours rest were had at the Bognor Regis Best Western and then the 300 mile return journey.
Lesson learned about use of a multi-meter for those on site!