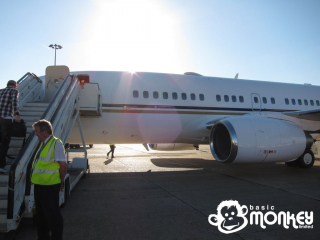 When you get used to tour buses, busy airports and crowded planes; any change is welcome.
As a last minute addition to the tour, Faithless were asked to travel to St. Petersburg in Russia to perform at a VIP concert as part of a big financial event. To make the trip work, the event organisers chartered a Boeing Business Jet from Royal Jet to fly the band and crew to the city in style…
We arrived at the Signature Air Services terminal at Heathrow (not like your average terminal) to find a grand piano, comfy sofas and tea and biscuits on tap. Realising that the band were slightly delayed and that there was no drink at the terminal, we headed over to Wetherspoon's at T4 for a couple.
Upon return to Signature, we were transported to our plane on mini-bus past the Sultan of Brunei's and many other smart private jets. After a quick security check, we boarded the plane to a welcome of fruit bowls, chocolates and smiling stewardesses. A huge step up from the Ryanair trip to Poland a few weeks ago!
During the flight we were served some of the best food I've had. For starter we had a selection from a plentiful seafood buffet, for main there was a choice of 6 dishes (or a combination) and then a rather sickly sweet trolley! When I asked for a brandy and coke, I was informed that the only brandy available was Remy XO, this wasn't a problem.
Arriving in Russia, Maxi started a chant of 'It's not over, we're not getting off', a sentiment I think most of us agreed on.
I have a strong feeling that this was a once in a lifetime experience and it will be appreciated as such.
James