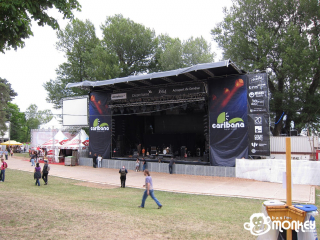 The Swiss seem to have a knack for festival locations; Gurten Festival is on the top of a hill surrounded by the stunning, snow-capped Alps, and this weekend's festival 'Caribana' is on the shores of Lake Geneva.
The practicalities of these locations seem to be wholly immaterial, normally involving swapping all our equipment on to smaller vehicles or a very long push over grass. Worth it though.
Caribana is in a small spot, in the area between a boat club and a private residence, for 9000 party goers. With lots of high platforms for bars and VIP areas, and the band catering suspended over the lake itself, I quite like this place.
We finished the load-in for lights and video at 7:30 am and came back to the hotel to rest for the day. Just leaving for site again now, looking forward to an easy show and a great reaction as we have come to expect for the band.
James