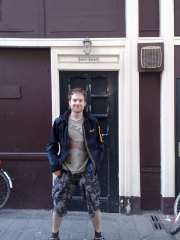 Well after a couple of hectic days in Oslo and Copenhagen, it's great to have a true day off in a wonderful place.
We arrived on the bus at 11:30, leaving plenty of time to check out the bars and shops of Amsterdam. I'm writing this post after a couple of pleasant pints of Amstel and some local grub.
The show tomorrow is our earliest yet and in a club venue, after which we are straight to Brussels for our final show of the European leg.
James