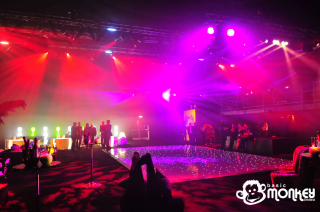 Tonight was the Fashion Kicks event in Lancashire County Cricket Club's semi-permanent marquee, lit by Lightech Sound and Light.
James was there to help with the build in the fashion show tent, sponsored by Selfridges, and later the conversion of this area to a nightclub for the guests after their dinner.
Entertainment in the dinner marquee was provided by Westlife whose LD Dave Lee used lights provided by Lightech and Versa Tubes provided by MCL.
There was a huge press interest in the event, hopefully it raised plenty of funds for Macmillan!