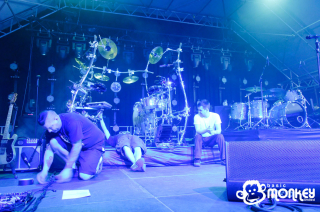 After a relaxed and much needed day off yesterday, and a stay in the luxurious 5 star Sofitel in Munich city centre, we're at the Tonhalle for tonight's show.
The venue is in the middle of a massive ex-industrial area with loads of graffiti and lots to entertain. There's a 30m climbing wall, a few bars/cafes and bike/skate areas, however on our arrival it felt more like an old war zone for a minute.
The get-in was painless, with lots of access around the stage making cable runs nice an easy. Another small stage unfortunately meaning a slight change in riser arrangement, but nothing too serious! Today's crew were a massive help, needing little instruction to help load the GLP Impressions on to the towers (they are removed for transport).
Tonight we are off to Cologne for another much needed day off, a chance to check out the city and eat some hearty German grub.
James